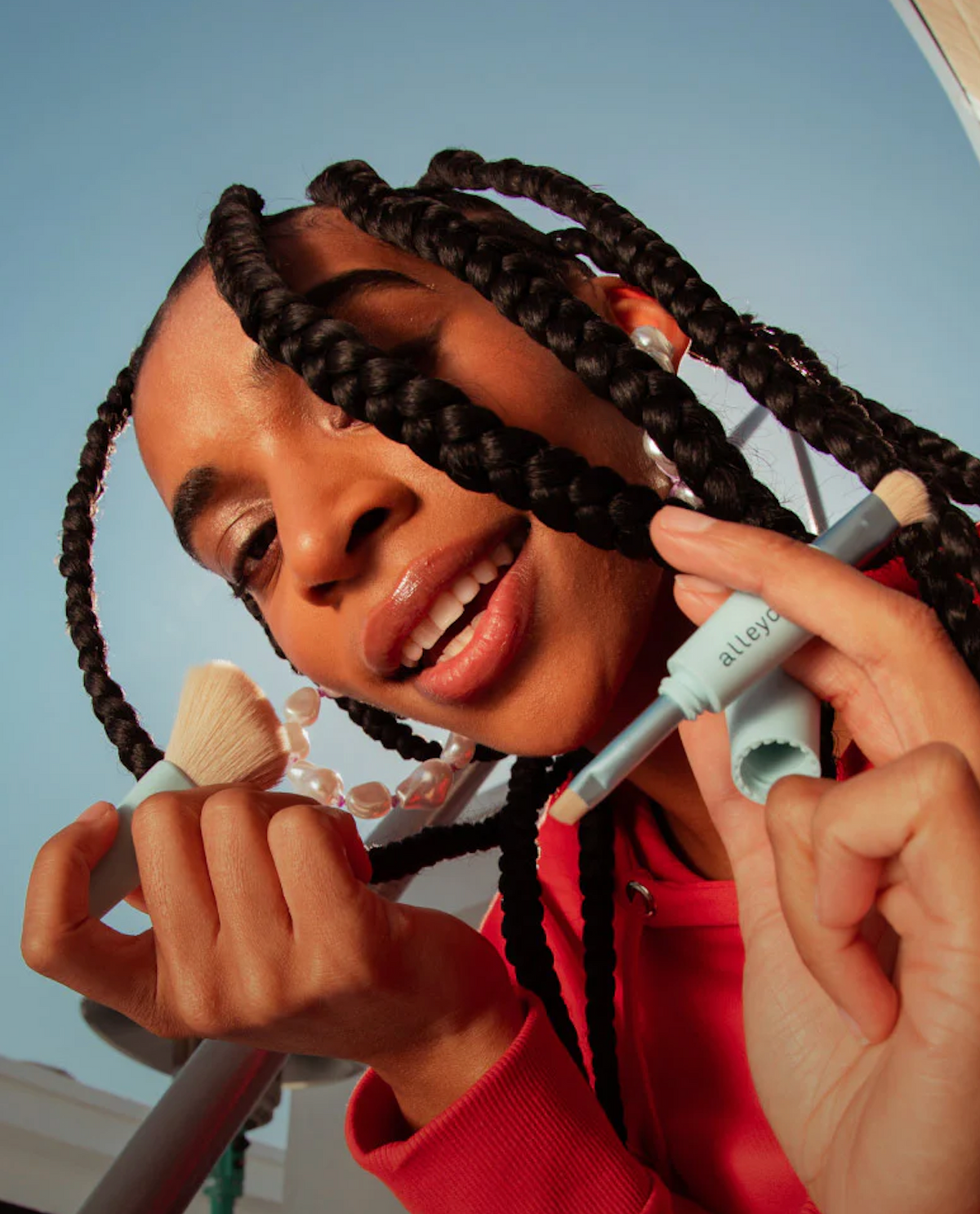 ★★★★★
Your All-In-One
Makeup Solution
Customizable, compact, and effortlessly cool.
Your beauty routine has never been simpler.
★ Four multi-use clean beauty essentials
★ Smooth, creamy, skin-loving vegan formulas
★ Create endless looks on the go
★ Seriously space-saving multi-taskers
★ Award-winning high performers
★ Infused with skincare star ingredients
★ Creamy, easy, stay-all-day color in seconds
★ Includes a built-in sharpener for fine lines
★ Infused with skin-smoothing Jojoba Oil
★ Choose from matte & shimmer shades
★ Silky cream-to-powder formula glides on
★ 4-in-1 makeup click pen
★ Smooth, tug-free, long-lasting formulas
★ Universally flattering shades
★ Perfect for quick touchups on the go
★ Travel-friendly, compact design
★ Eyeliner, lip liner, brow pencil, highlighter
★ Space-saving 3-in-1 compact stack
★ Includes Blush, Bronzer, & Highlighter
★ Super creamy skin-enhancing formulas
★ Easy to apply on-the-go, anytime, anywhere
★ Eco-friendly & refillable to mix and match
★ Refinery29 Beauty Innovator Award winner
★ Four essential makeup brushes in one tool
★ Travel-friendly compact design
★ Made of plush synthetic vegan fibers
★ Includes 3 brushes and 1 blending sponge
★ All you need to blend, blur, & line on the go
★ Allure Best of Beauty Award winner
Don't take our word for it
★★★★★

soooooo pretty

These colors are absolutely stunning together and so easy to apply. I saw myself in a pic and was like omg what makeup did I use today? I also love that it's like 3 products in one so I bring it when I'm running late and apply in the car with just my fingers and a brush
★★★★★

lovely color, goes on smooth

Add customer reviews and testimonials to showcase your store's happy customers.
★★★★★

best travel set!

I've never been into cream based makeup because my acne prone skin would always end up looking too oily. This little blush, bronzer and highlight set has converted me. It's goes on and blends easily and I look glowy all day without looking shiny/oily.
★★★★★

amazing!

I recently purchased The Beauty MVP Set for summer vacation. Ladies, let me tell you, as a woman of a certain age, the blush/contour/highlight combo were so creamy and blended in so well. All of the products are extremely easy to use, and foundation/concealer, wow. No weird creasing around your eyes... this! I've just found my new makeup routine.
★★★★★

the only makeup you need.

As a man working in entertainment,I learned about this from a friend. I like that is discreet, small, matches my complexion perfectly and is all in one. I can do subtle touch ups quickly before going on air and just through the little compact contraption in my gym bag. 10/10
See the Beauty MVP Set in Action
SAVE 40% on the Beauty MVP Set